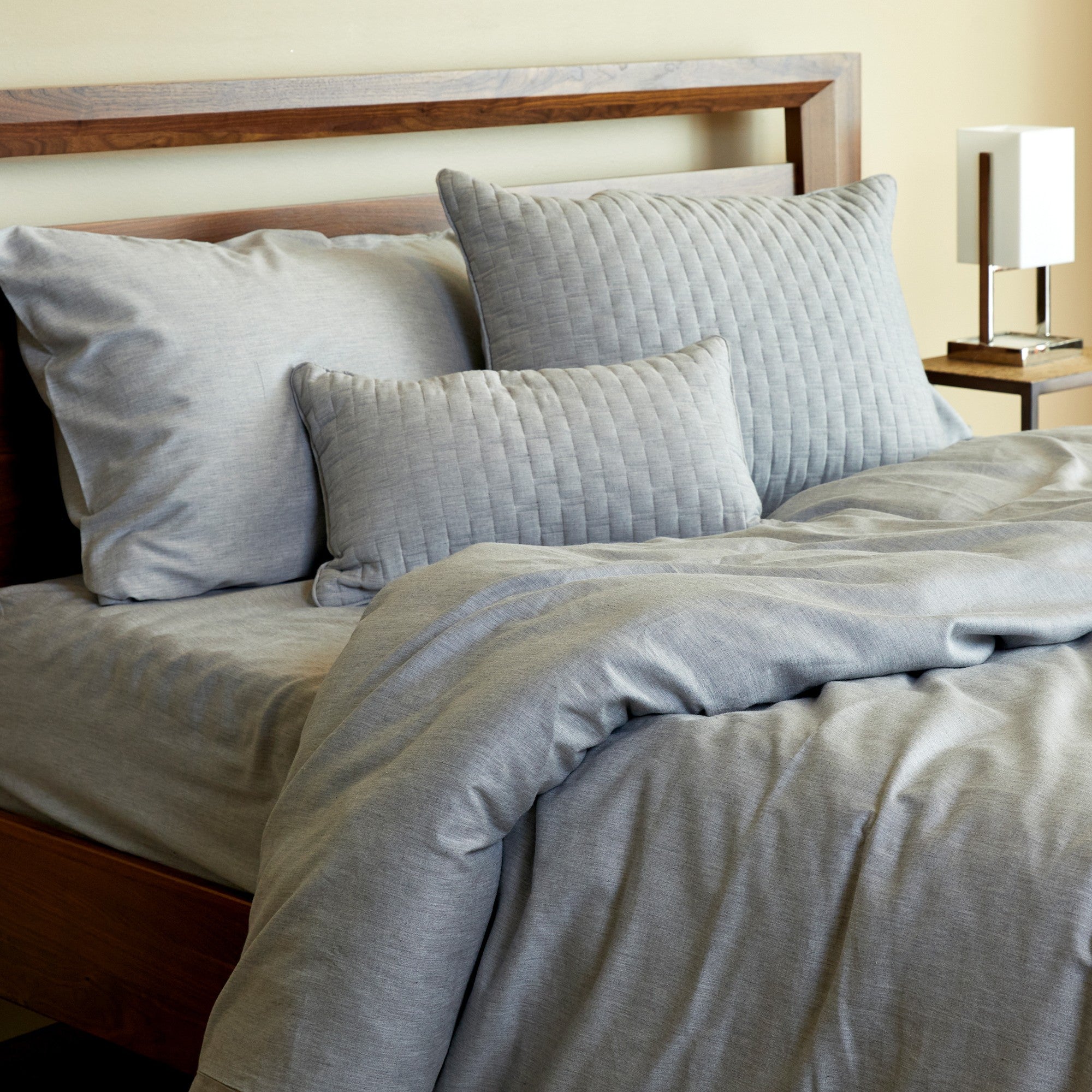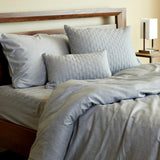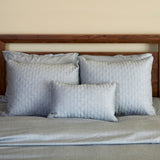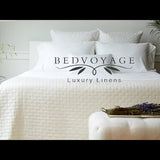 BedVoyage Melange viscose from Bamboo Cotton Quilted Decorative Pillow- Silver
Size chart
Description

More Info

Care
Our ultra-cozy Melange Quilted Decorative Throw Pillow is a beautiful addition to a well-made bed. They're made from viscose from Bamboo and long staple cotton blend, with a tight twill weave. Cuddle-worthy comfort that lasts. The fibers are resistant to bacteria and odors, great for lounging, reading in bed, or using as a laptop pillow. Classic brick quilting adds a pop of elegance to any bedroom decor.

Includes: 1 Quilted Decorative Pillow with invisible zipper closure, and a poly-fil insert.

Fabric: 50% viscose from Bamboo/50% Cotton
Pillow: 12x20x6
MADE FROM: 50% viscose from Bamboo, 50% long staple Cotton. Designed in the USA, made responsibly in India
SERIOUSLY SOFT: rich, cozy comfort that lasts and gets softer wash after wash

BENEFITS: resistant to bacteria and odors, the hypoallergenic bedding is good for all skin types, for clear non-irritated skin

THOUGHTFULLY DESIGNED: piped edges and zipper enclosure. With a quilted brick pattern for a timeless design aesthetic

EASY CARE & DURABLE: wash on warm, dry on medium. Bleachable & Benzol Peroxide/Retinol safe

RIGOROUSLY TESTED: the enhanced tight twill weave rated highly against pilling, so your linens last longer

CERTIFICATIONS: Oeko-Tex Made in Green; the linens meet human-ecological requirements. Green America Business certified, SMETA Social Responsibility audit, NWBOC Women Owned certified
Zip closed before laundering sham
Machine wash on warm or cold, dry on medium
Use a gentle eco-liquid detergent
Avoid bleach, fabric softener, dryer balls & dryer sheets
Remove from dryer when warm to avoid wrinkling
Store in linen bag to keep fresh
For more tips see our Stain Guide
---
BedVoyage Melange viscose from Bamboo Cotton Quilted Decorative Pillow- Silver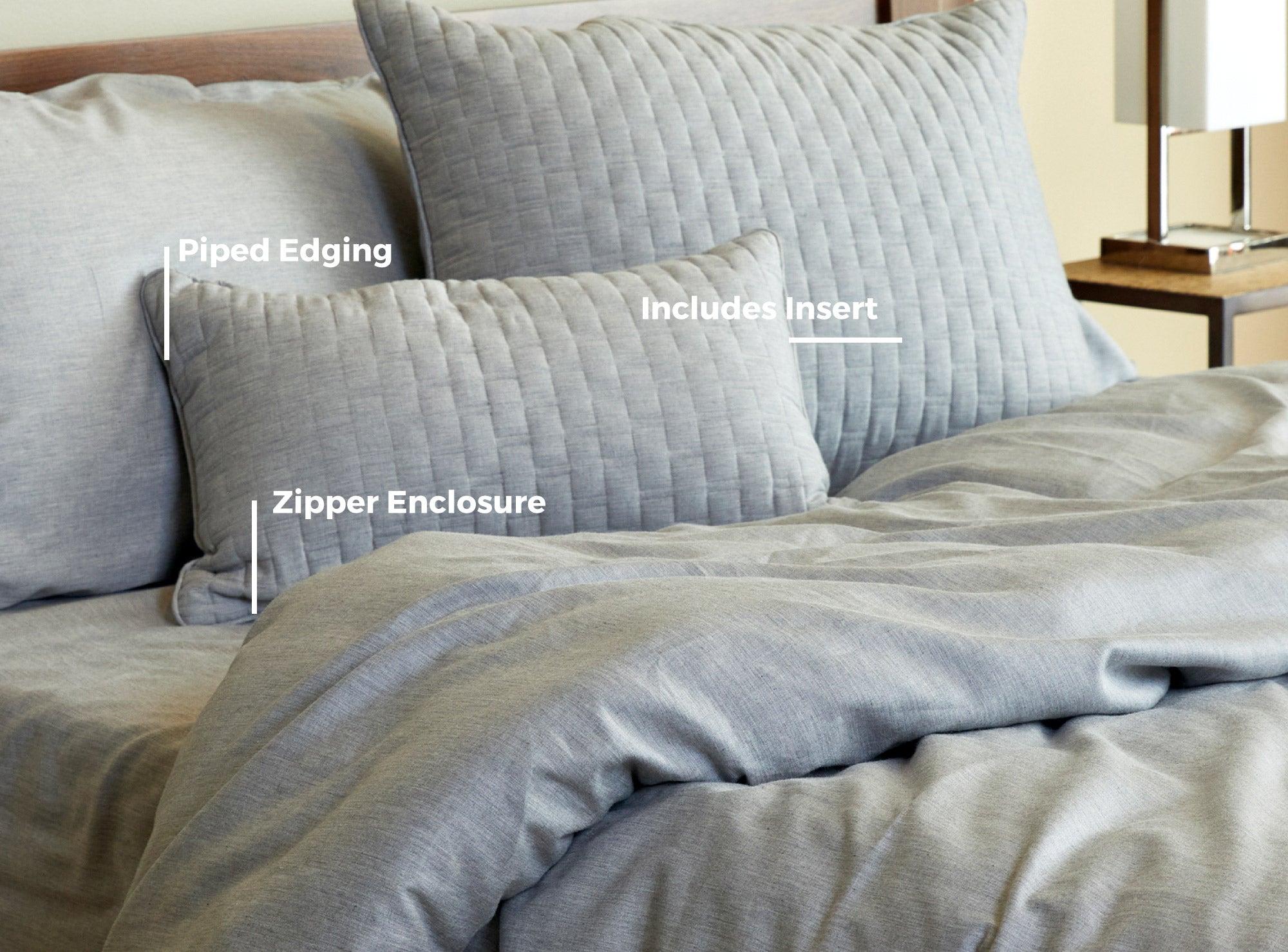 Melange Bamboo
Decorative Pillow Features
Includes Pillow Insert
Zipper Enclosure
Quilted Brick Pattern
Tight Twill Weave = No Pilling
Benzoyl Peroxide & Retinol Safe
Why BedVoyage Bamboo?
Signature Weave
Our tight twill weave and optimal thread count guarantee a cozy cuddle experience that will leave you craving more.

Experience the perfect harmony between ultra softness and breathability.

Sweet dreams await~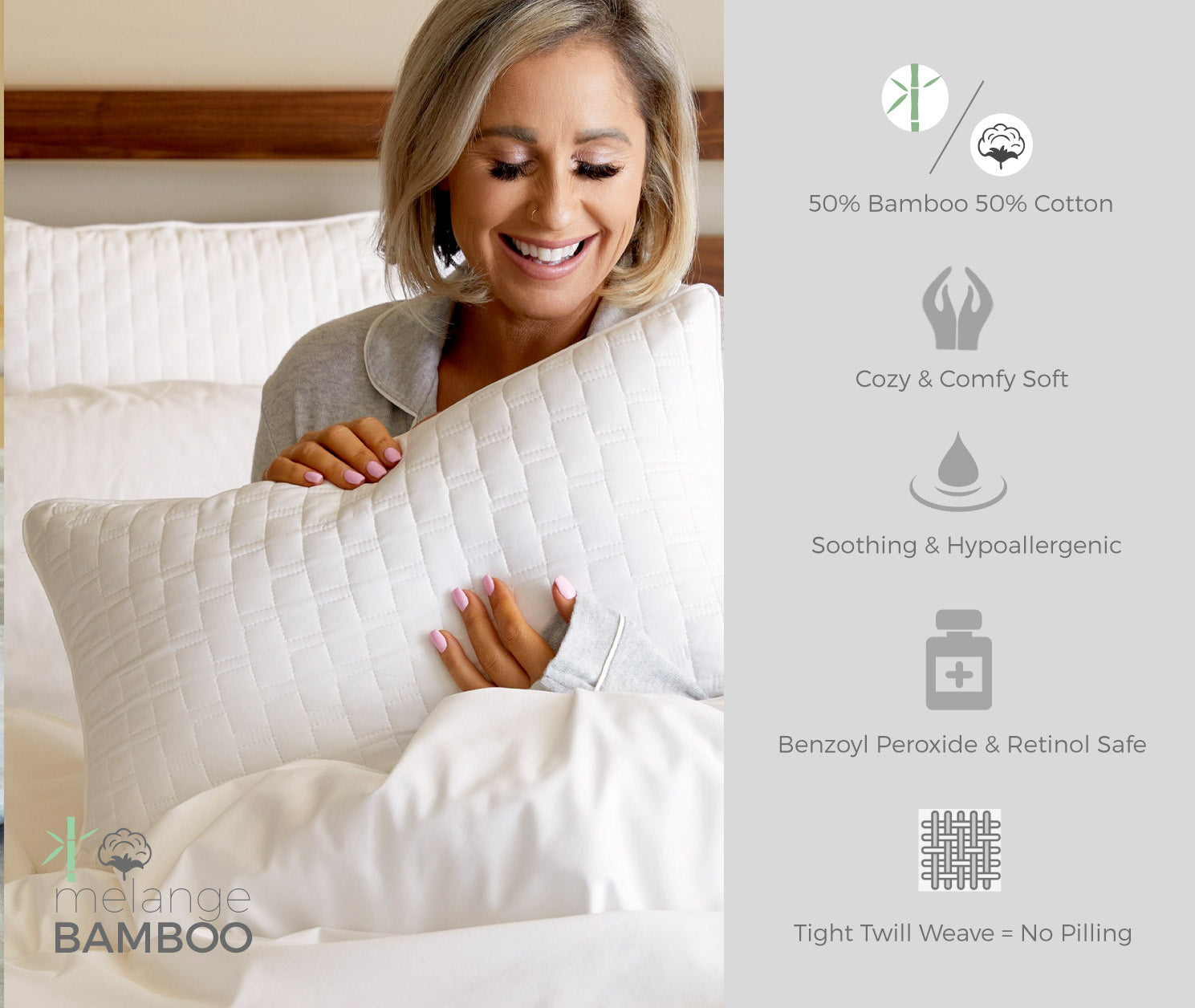 FAQ

How do I wash bamboo shams?

Viscose from Bamboo is best cared for by washing in warm water with an eco-friendly liquid detergent, and drying on medium heat. Proper washing will extend the life; you can expect to get 5-6 years from your linens with proper laundering.  Using hot water and high heat can cause any linens to pill, which are the uncomfortable bumps you'll see on some sweaters. Also, bamboo has natural bacteria-resistance so if you're used to using bleach to kill any bacteria, there is no need to do so with bamboo. A great benefit for your health and the environment!

What detergent do you use on bamboo shams?

We recommend a mild liquid detergent like Ecos, Mrs. Myers, Woolite, Seventh Generation, ECover, or Kirkland Ultra Clean. We do not recommend bleach (except you may with the melange fabrics) fabric softeners, washer balls or dryer sheets/balls. We've noticed that harsher detergents can break down the fibers faster, shortening the lifespan of the linens and creating tears at the seams. 

Where are your bamboo shams made?

BedVoyage linens are manufactured responsibly at some of the largest home textile factories in India. Our factories have passed a stringent 25 point review process by many US retailers, as well as yearly passing the Social Responsibility Audit. This ensures that there is no child labor, the workers are not over-worked or under paid, and work in an environment where there are safeguards in place to ensure their health and safety.  We work with Fair Trade and LEED certified factories, that have the Oeko-Tex Standard in Textiles certification. We are proud to be processing our bamboo in such a responsible factories!

What is the closure mechanism?

For the Euro, Melange Standard Shams and the Decorative Pillows; we use an invisible zipper closure. This keeps the pillow shape nicely in place!

Do bamboo shams wrinkle?

They may get a soft wrinkle where you head lays, but they should not get hard creases like cotton fabrics do. We have chosen not to coat our linens with formaldehyde, which is what the cotton industry does to make them wrinkle-resistant, as we want to offer the most eco-conscious product we can so that you sleep healthier.

Do bamboo shams shrink?

Viscose from Bamboo will shrink the first time you wash them, but we've oversized the linens to allow for that shrinkage.

What is the thread count of BedVoyage bamboo shams?

BedVoyage bamboo linens have a thread count of 300. People often think high thread count equates to softest feel, but you will see that bamboo is about as soft as it gets! We've chosen 300 thread count as the sweet-spot for keeping the breathability of the linens, but also the silky feel.

Do oil stains come out of bamboo?

Oil or lotion stains can be removed by trying any of the following: • Prewash the coverlet with ¼ cup Dawn dish washing liquid and then launder as usual, Dawn is a natural degreaser. • Spray Oxy Clean or a chlorine-free stain remover directly onto the stain and then launder as usual. • a mixture of 1-part white vinegar to 4-parts water, sprayed or poured onto the stain; this should remove the stains during laundering.

What is Bamboo Viscose and Rayon from Bamboo?

Both terms are virtually interchangeable and mean 'the process' of breaking down the bamboo stalk into a fiber. Because the end fiber is indistinguishable from other wood pulps (ie; eucalyptus, beech wood, pine, etc)  the Federal Trade Commission requires that it be called either viscose or rayon from bamboo. We have chosen to use both words in describing our fabric so that customers can recognize either term.

Can I iron bamboo shams?

Yes, you can iron them and even use high heat and steam, it will not hurt them. But another trick is that if you dry them on high for the last 10 minutes of the cycle (if you forgot to take them out immediately) they will come out smoother. 

If I wash the shams in hot water will it hurt it?

You won't harm it, it just may shrink a little bit. If that happens, just wash again and when wet; pull at the ends to lengthen it a bit and dry flat.

How long will bamboo shams last?

When laundered properly they should last between 5-7 years.  

Do the colors fade?

No, we have used reactive dye to keep the colors deep and true. We don't recommend bleach, and we do recommend laundering with like-colors so that other darker items do not bleed onto fabric.

Will pet hair come out of bamboo shams?

Yes, when you launder the fur will come off, or you can use a lint roller between laundry days. Remember bamboo has some antibacterial properties so your linens won't accumulate the same amount of smell that cotton might, and rayon is anti-static so it won't cling to pet fur and other lint like cotton will. As well, our twill weave means they are less likely to snag with pet claws than plain, satin weave or knits.