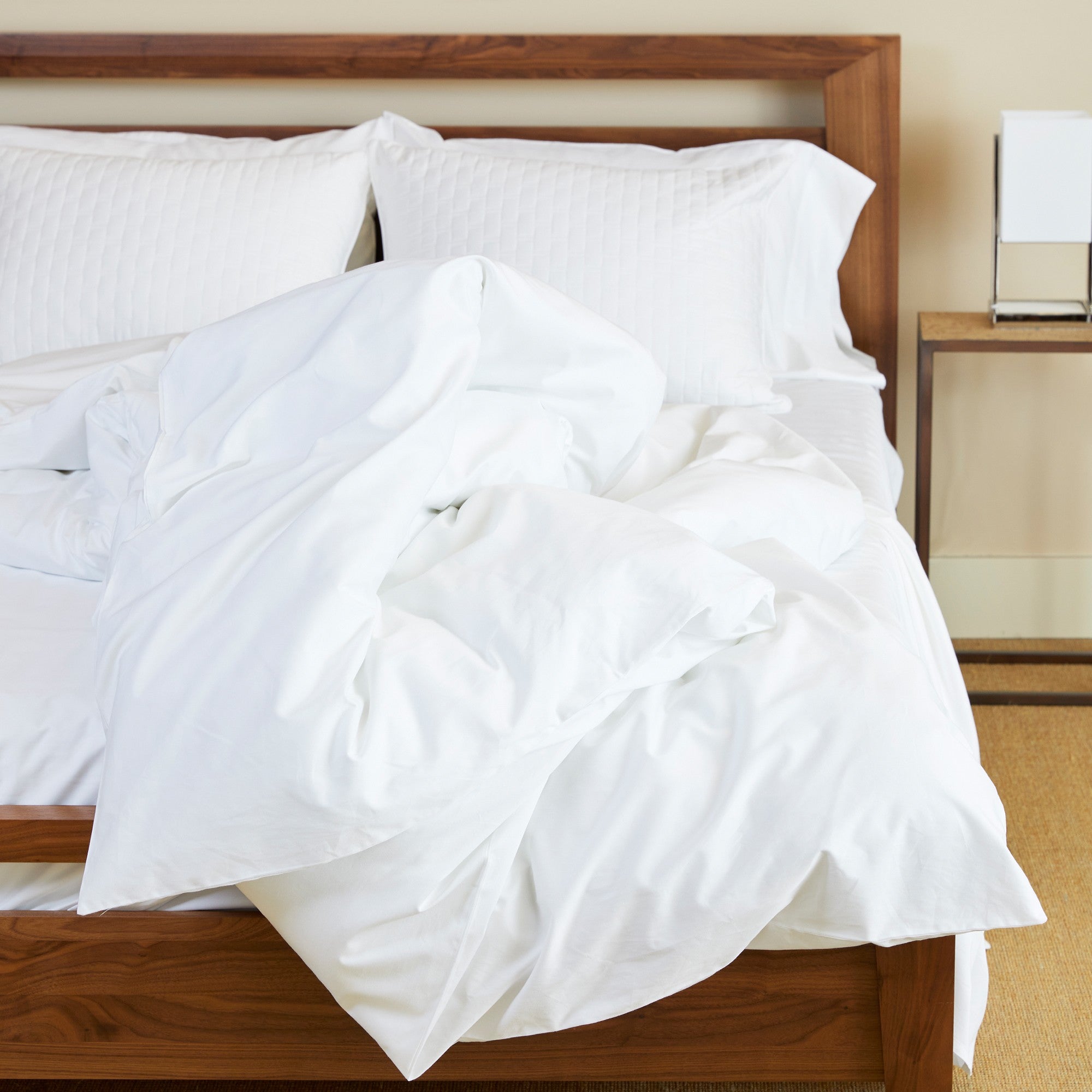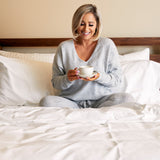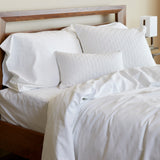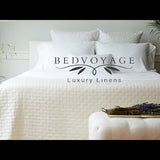 BedVoyage Melange viscose from Bamboo Cotton Duvet Cover - Snow
Size chart
Description

More Info

Care
Our ultra-cozy Melange Duvet Covers are made with a unique blend of viscose from Bamboo and premium long staple Cotton. Hypoallergenic bedding, designed with the most durable tight twill weave yet woven to create cuddle-worthy comfort that lasts. The viscose from Bamboo blend is engineered to be resistant to bacteria and odors, yet still have that familiar cotton softness that feels like home. A great choice for people who love their cotton duvets but want the added benefits of viscose from Bamboo.

Includes: 1 Duvet Cover with inside corner ties and button enclosure. 
Fabric: 50% viscose from Bamboo/50% Cotton, 300tc. Made responsibly in India
Twin:

 

68x87
Queen:

 

90x94
King:

 

108x94
MADE FROM: 50% viscose from Bamboo, 50% long staple Cotton. Designed in the USA, made responsibly in India
SERIOUSLY SOFT: rich, cozy comfort that lasts and gets softer wash after wash

BENEFITS: resistant to bacteria and odors, the smooth fibers of our hypoallergenic bedding is good for all skin types for clear, non-irritated skin

THOUGHTFULLY DESIGNED: with button enclosure, and inside corner ties so your comforter stays put

EASY CARE & DURABLE: wash on warm, dry on medium. Bleachable & Benzol Peroxide/Retinol safe

RIGOROUSLY TESTED: the enhanced tight twill weave rated highly against pilling, so your linens last longer

CERTIFICATIONS: Oeko-Tex Made In Green; the linens meet human-ecological requirements. Green America Business certified, SMETA Social Responsibility audit, NWBOC Women Owned certified
Wash first
Machine wash on warm or cold, dry on medium
Remove comforter from inside before laundering
Use a gentle eco-liquid detergent
Avoid bleach, fabric softener, dryer balls & dryer sheets
Remove from dryer when warm to avoid wrinkling
Store in linen bag to keep fresh
For more tips see our Stain Guide
---
BedVoyage Melange viscose from Bamboo Cotton Duvet Cover - Snow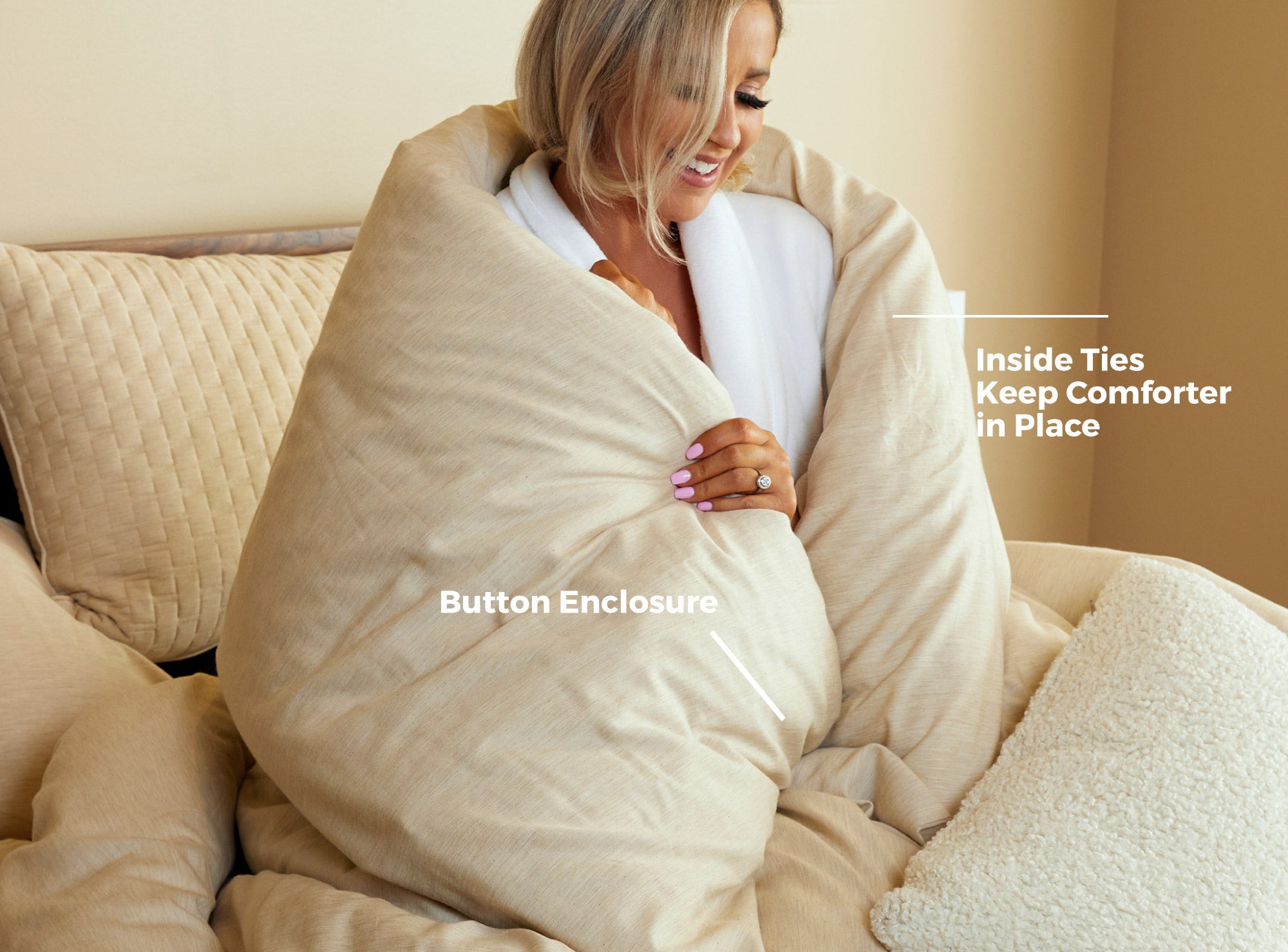 Melange Bamboo
Duvet Cover Features
Includes 1 Duvet Cover
Button Enclosure
Tight Twill Weave - Prevents Pilling
Reusable Linen Storage Bag
Benzoyl Peroxide & Retinol Safe
Why BedVoyage Bamboo?
Signature Weave
Our tight twill weave and optimal thread count guarantee a luxurious cuddle experience that will leave you craving for more.

Experience the perfect harmony between silky softness and breathability.

Sweet dreams await~
FAQ

How do I wash bamboo or melange duvets?

Viscose from Bamboo linens are best cared for by washing in warm water with an eco-friendly liquid detergent, and drying on medium heat. Proper washing will extend their life; you can expect to get 5-6 years from your linens with proper laundering.  Using hot water and high heat can cause any linens to pill, which are the uncomfortable bumps you'll see on some sweaters. Also, bamboo has natural bacteria-resistance so if you're used to using bleach to kill any bacteria, there is no need to do so with bamboo. A great benefit for your health and the environment!

What detergent do you use on bamboo or melange duvets?

We recommend a mild liquid detergent like Ecos, Mrs. Myers, Woolite, Seventh Generation, ECover, or Kirkland Ultra Clean. We do not recommend bleach, fabric softeners, washer balls or dryer sheets/balls. We've noticed that harsher detergents can break down the fibers faster, shortening the lifespan of the linens and creating tears at the seams. 

Do the duvets have ties in the corner?

Yes, they have inside corner ties in all 4 corners of the duvet. Simply secure your comfortor or insert by tying the ties around the corner edges of your insert. They should stay put until your next laundering time.

What type of closure do the duvets have?

Hidden button enclosure, with an extra button sewn into the inside so you have a replacement if one falls off and is lost.

Do I need to wash the duvet before I use it?

We recommend it, as our linens are made oversized so they will shrink to fit. Our buttoned duvets have an extra button sewn inside the bottom of the duvet so that you can replace a button if one falls off or is lost.

What can I put inside my duvet cover?

You can use a down or poly-fil comforter, a blanket, quilt or afghan. In the summer some people like to just use a lightweight blanket, and in the winter they insert a thick down comforter. But anything you prefer will work just fine!  

Will a King Duvet fit my Cal King comforter?

Yes, it will. A Cal-King is a bit longer and a bit more narrow, so you will have a bit of extra drape on the sides of the bed, but it will still fit.

Can I iron bamboo and melange duvets?

Yes, you can iron them and even use high heat and steam, it will not hurt them. But another trick is that if you dry them on high for the last 10 minutes of the cycle (if you forgot to take them out immediately) they will come out smoother. 

Are bamboo and melange duvets warm, or cold?

One of the remarkable qualities of viscose from Bamboo is that it's thermal regulating. What that means is that if you sleep hot the bamboo fibers 'sense' the heat and will release it through the micro-gaps and holes in the fibers. Similarly, if you sleep cold it will sense that, and keep your warmth in around you. We call it a 'smart fabric' as it knows what you need!

If I wash bamboo duvets in hot water will it hurt them?

You won't harm them, but they may shrink just a bit. If you repeatedly do this, however, you may cause the linens to pill, so it's recommended to always wash and dry on cool to medium heat. If you occasionally want to force the linens to shrink; you can launder in hot water and dry on high.

How long will melange and bamboo duvets last?

If you use have one duvet, when cared for properly, they should last typically 5-6 years. If you rotate between several other duvets, they will last 7 years or more. 

Do the colors fade?

No, our colors will stay true for many years, with no fading. We would just recommend that you launder with similar colors, such as darks or whites, so that no other fabrics bleed onto the duvet colors.

Can I hang dry melange and bamboo duvets?

Yes, you can. Once its dry, if you'd like to keep the silky softness just toss them in the drier on medium heat for 5-10 minutes.

Will pet hair come out of the duvets?

Yes, when you launder the fur will come off, or you can use a lint roller between laundry days. Remember bamboo has some antibacterial properties so your linens won't accumulate the same amount of smell that other fabrics might, and the bamboo is anti-static so pet fur won't cling like it will with other fabrics. As well, our twill weave means they are less likely to snag with pet claws than plain, satin weave duvets or knits.