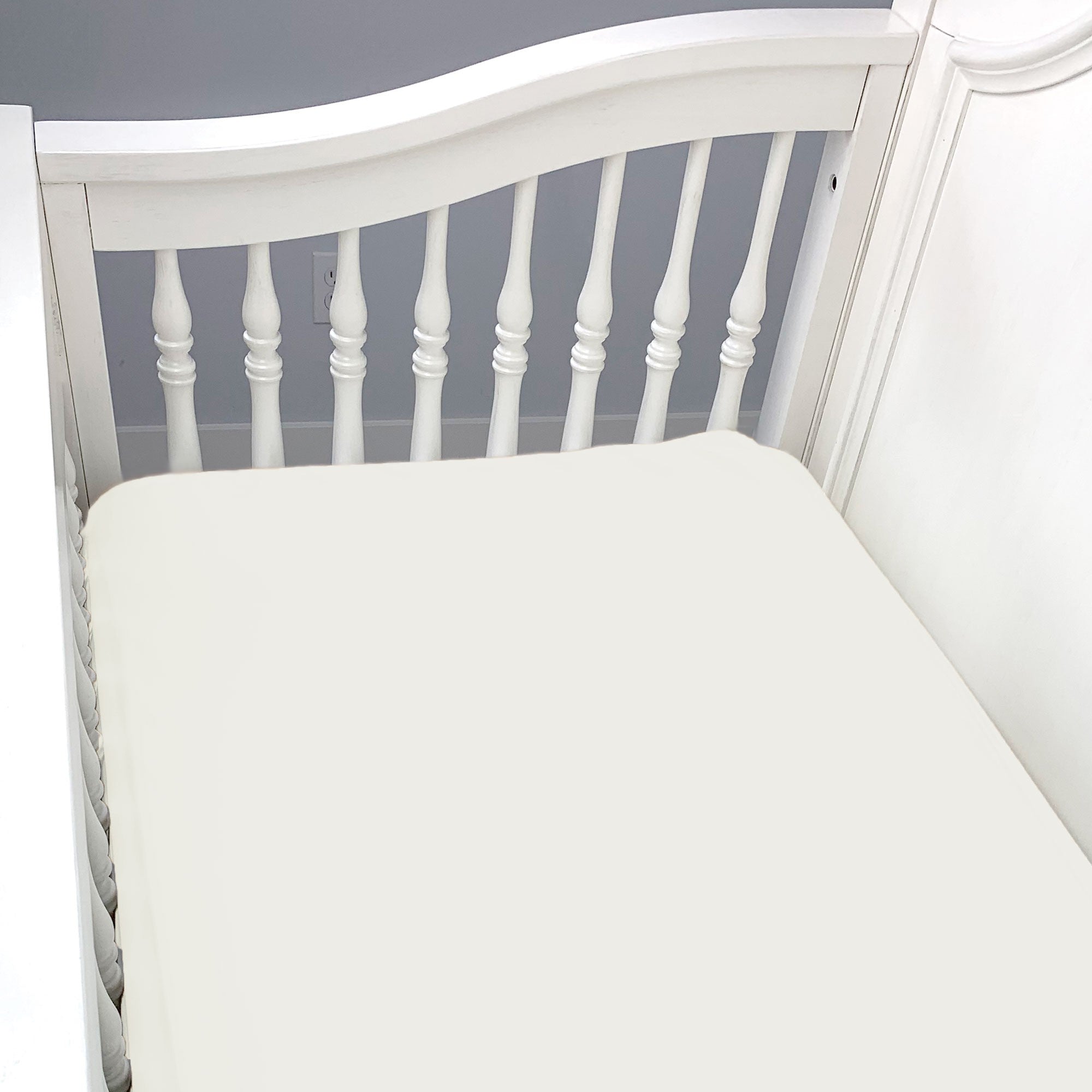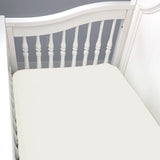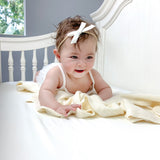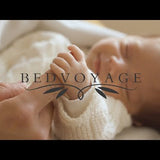 Panda Baby 100% viscose from Bamboo Fitted Crib
$20.00
Regular price
$30.00
Size chart
Description

More Info

Care
Our 100% viscose from Bamboo fabric is silky smooth and breathable against your baby's tender skin. Our tight twill weave is the most durable weave and is resistant to mildew and bacteria. 
Includes: 1 Fitted Crib Sheet

Fabric: 100% viscose from Bamboo. Made in China
Crib: 28x52x6
MADE FROM: 100% viscose from Bamboo. Designed in the USA, made in India
BABY SLEEPS DRY AND COOL: our fibers wick moisture, and the thermal-regulating properties keep your baby drier, cooler and comfortable all night long
SLEEP BETTER, SLEEP CLEAN: the round fibers are incredibly soft & hypoallergenic, comforting baby's skin. They're also resistant to bacteria, which keeps crib sheets fresh longer
THOUGHTFULLY DESIGNED: 6" pocket with 360 durable elastic, enhanced tight twill weave prevents pilling, resistant to stains
RIGOROUSLY TESTED: the enhanced tight twill weave rated highly against pilling, and passed all flammability testing in USA & Canada
CERTIFICATIONS: Oeko-Tex Standard 100: manufactured in an environmentally responsible factory, tested for harmful substances. Green America Business certified, SMETA Social Responsibility audit, NWBOC Women Owned certified
EASY CARE: machine wash first using warm water and gentle liquid detergent, dry on medium. Not recommended: bleach, fabric softener, dryer sheets or wool balls
Wash first as sheets will shrink to fit
Machine wash on warm or cold, dry on medium
Use a gentle eco-liquid detergent
Avoid bleach, fabric softener, dryer balls & dryer sheets
Remove from dryer when warm to avoid wrinkling
Store in linen bag to keep fresh
For more tips see our Stain Guide
---
Panda Baby 100% viscose from Bamboo Fitted Crib
$20.00
Regular price
$30.00
100% Luxury Bamboo
Fitted Crib Sheet Features
Includes 1 Fitted Crib Sheet
Fits Standard Crib Mattresses
360º Durable Elastic
Tight Twill Weave - Prevents Pilling
Includes Linen Storage Bag
Why BedVoyage Bamboo?
Signature Weave
Our tight twill weave and optimal thread count guarantee a luxurious cuddle experience that will leave your baby calm and happy.

Experience the perfect harmony between silky softness and breathability.

Sweet dreams await~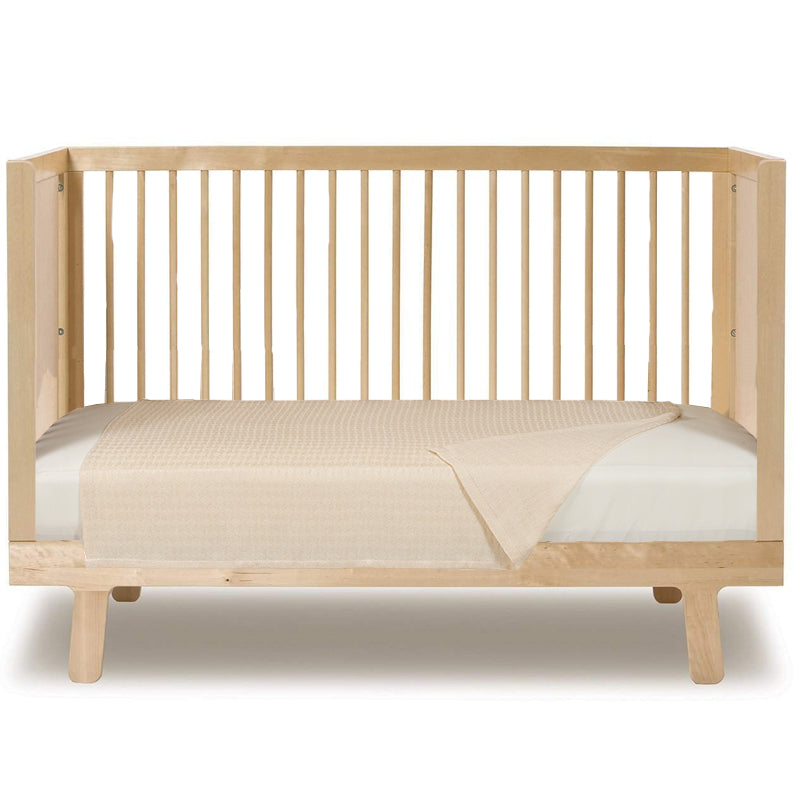 FAQ

How do I wash bamboo crib sheets or swaddles?

Viscose from Bamboo is best cared for by washing in warm water with an eco-friendly liquid detergent, and drying on medium heat. Proper washing will extend their life. Bamboo has natural bacteria-resistance so there is no need to use bleach. A great benefit for your baby's health and the environment!

What detergent do you use on bamboo crib sheets or swaddles?

We recommend a mild liquid detergent like Ecos, Mrs. Myers, Woolite, Seventh Generation, ECover, or Kirkland Ultra Clean. We do not recommend bleach, fabric softeners, washer balls or dryer sheets/balls. We've noticed that harsher detergents can break down the fibers faster, shortening the lifespan of the linens and creating tears at the seams. 

Where are your bamboo linens made?

BedVoyage linens are manufactured responsibly at some of the largest home textile factories in India. Our factories have passed a stringent 25 point review process by many US retailers, as well as yearly passing the Social Responsibility Audit. This ensures that there is no child labor, the workers are not over-worked or under paid, and work in an environment where there are safeguards in place to ensure their health and safety.  We work with Fair Trade and LEED certified factories, that have the Oeko-Tex Standard in Textiles certification. We are proud to be processing our bamboo in such a responsible factories!

Do bamboo crib sheets wrinkle?

They will get a soft wrinkle where your baby lies, but they will never get a hard crease like cotton sheets do.  We have chosen not to coat our linens with formaldehyde, which is what the cotton industry does to make them wrinkle-resistant, as we want to offer the most eco-conscious product for your baby so they sleep healthier.

Do bamboo crib sheets shrink?

Viscose from Bamboo will shrink the first time you wash them, but we've oversized the linens to allow for that shrinkage. As our baby sleeps on them, bamboo tends to 'grow' but each time you wash and dry them they go back to being a nice snug fit.

What is the thread count of bamboo crib sheets?

BedVoyage bamboo linens have a thread count of 300, which in the bamboo linen world is quite high. We've chosen 300 thread count as the sweet-spot for keeping the breathability of the linens, but also the silky feel against your baby's tender skin.

Do stains come out of bamboo easily?

Stains can be removed by trying any of the following:

• Prewash the crib sheet or swaddle with ¼ cup Dawn dish washing liquid and then launder as usual, Dawn is a natural degreaser.

• Spray Oxy Clean or a chlorine-free stain remover directly onto the stain and then launder as usual.

• A mixture of 1-part white vinegar to 4-parts water, sprayed or poured onto the stain; this should remove the stains during laundering.

What is Bamboo Viscose and Rayon from Bamboo?

Both terms are virtually interchangeable and mean 'the process' of breaking down the bamboo stalk into a fiber. Because the end fiber is indistinguishable from other wood pulps (ie; eucalyptus, beech wood, pine, etc)  the Federal Trade Commission requires that it be called either viscose or rayon from bamboo. We have chosen to use both words in describing our fabric so that customers can recognize either term.

How deep is the fitted sheet?

It's 6" to fit most cribs, with elastic all the way around the edge, not just at the corners like many crib sheets. The fitted sheet will stay snug and never pop off.

What uses are there for the swaddle?

More than just a swaddle! You can use it as a stroller cover, a carseat blankie, as a tummy-time blanket or a nursing cover. When your baby outgrows the swaddling, it can become their favorite lovey!