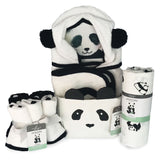 Panda Baby viscose from Bamboo Comfort Essentials 10pc - Baby Gift Set - Unisex
Size chart
Description

More Info

Care
An adorable baby shower gift that any new parent would love. Includes baby necessities that are made from hypoallergenic viscose from Bamboo and cotton which is incredibly soft on baby's delicate skin. The perfect gender-neutral baby essentials gift. Includes 1 cozy Bamboo Hooded Towel (fits newborn-5yr) 7 gentle Baby Washcloths, 1 lightweight and breathable Bamboo Swaddle, and 1 reusable Panda storage basket.
Fabric:  Hooded Towel: 75% viscose from Bamboo/25% Cotton, Washcloths: 63% viscose from Bamboo/37% Cotton, Swaddle: 60% viscose from Bamboo/40% Cotton, Panda Basket: 100% Cotton Canvas

Dimensions:  1 Hooded Towel, 1 Panda Swaddle, 7 Baby Washcloths and 1 Small Panda Basket: Swaddles: 47x47, Hooded Towel: 40x28 (Hood: 16x8), Washcloths: 10x10
MADE FROM : 75% viscose from Bamboo & 25% long staple Cotton, 500 GSM, made in India. Fair Trade certified

FRESH & CLEAN : these plush, quick-dry Hooded Baby Towels, Swaddle, and Washcloths are resistant to bacteria, odors and mildew

GENTLE & ULTRA SOFT : soothes and comforts baby's sensitive skin. Super breathable swaddle, so baby won't overheat

MILDEW RESISTANT & UV PROTECTING : perfect for after baby's bath, beach, or swimming pool

RIGOROUSLY TESTED : will not fray, pill or fade

CERTIFICATIONS : Oeko-Tex Standard 100 certified 21.HIN.55596: Tested for harmful substances. Green America Business certified, SMETA Social Responsibility audit, NWBOC Women Owned certified

EASY CARE : machine wash using warm water and gentle liquid detergent, dry on medium. Not recommended: bleach, fabric softener, dryer sheets or wool balls
Wash first to fluff the bamboo fibers
Machine wash on warm or cold, dry on medium
Use a gentle eco-liquid detergent
Avoid bleach, fabric softener, dryer balls & dryer sheets
Snip any snags, so they won't continue to run
For more tips see our Stain Guide
---
Panda Baby viscose from Bamboo Comfort Essentials 10pc - Baby Gift Set - Unisex
Introducing
Product feature
Use this section to create unique side-by-side layouts with various content blocks. Pair text with images, newsletter blocks, products, videos, testimonials and more.
Introducing
Another feature
Use this section to create unique side-by-side layouts with various content blocks. Pair text with images, newsletter blocks, products, videos, testimonials and more.
FAQ

How do I wash bamboo hooded towels or washcloths?

Bamboo baby towels are best cared for by washing in warm water with an eco-friendly liquid detergent, and drying on medium heat. Proper washing will extend their life. Also, bamboo has natural bacteria, odor and mildew resistance so there is no need to bleach. A great benefit for your baby's health and the environment!

What detergent do you use on bamboo towels?

We recommend a mild liquid detergent like Ecos, Mrs. Myers, Woolite, Seventh Generation, ECover, or Kirkland Ultra Clean. We do not recommend bleach, fabric softeners, washer balls or dryer sheets/balls. We've noticed that harsher detergents can break down the fibers faster, shortening the lifespan of the towels.

Do bamboo towels or washcloths snag?

When laundered properly they do not easily snag, but if you do develop one; simply cut the snag with sharp scissors and it should not continue to run. Try not to launder bamboo towels with things that can stick or cling, such as velcro or hooks.

How long will the Hooded Towel fit my child?

We've made the towel to fit newborns to a 40 pound child, or to about 6 years old. The Baby Washcloths can be used for many purposes, such as wiping hands or face, as a burp cloth, or cleaning up spills.

Will bamboo towels get a mildew smell?

They should never get a mildew smell as bamboo fibers are naturally resistant to mildew, odors and bacteria. You can even accidentally leave a load of bamboo towels in the washer all day and not have to rerun them like you would with cotton towels.

Can I hang bamboo baby towels to dry?

Yes, you can hang the towel by its hood, and it will generally dry overnight, ready for use the next day.

How long can I reuse the hooded towel or washcloths beforw laundering?

Due to its natural ability to resist odors; you can reuse the towel for 3-7 days before laundering. This is a nice laundry time-saver!

How do you get a stain out of bamboo towels?

Stains can be removed by trying either of the following:

• Prewash the towels with ¼ cup Dawn dish washing liquid and then launder as usual, Dawn is a natural degreaser.

•Spray Oxy Clean or a spot remover directly onto the stain then launder.

Where are your bamboo towels made?

BedVoyage linens are manufactured responsibly at some of the largest home textile factories in India. Our factories have passed a stringent 25 point review process by many US retailers, as well as yearly passing the Social Responsibility Audit. This ensures that there is no child labor, the workers are not over-worked or under paid, and work in an environment where there are safeguards in place to ensure their health and safety.  We work with Fair Trade and LEED certified factories, that have the Oeko-Tex Standard in Textiles certification. We are proud to be processing our bamboo in such a responsible factories!

What is Bamboo Viscose and Rayon from Bamboo?

Both terms are virtually interchangeable and mean 'the process' of breaking down the bamboo stalk into a fiber. Because the end fiber is indistinguishable from other wood pulps (ie; eucalyptus, beech wood, pine, etc)  the Federal Trade Commission requires that it be called either viscose or rayon from bamboo. We have chosen to use both words in describing our fabric so that customers can recognize either term.